Japan is the perfect place for all types of outdoor activities, especially given the nation's generally mild climate being able to accommodate all types of requirements for enjoying adventures in the great outdoors. There are many things to do, see and experience and all it takes is the curiosity to see something new.
One of the most convenient and cost effective solutions to seeing many sights in a short amount of time is to ride bicycles. Bicycles are very common throughout Japan, regardless of whether one finds him or herself in a rural area or the metropolitan streets. There are hundreds of beautiful locations to explore on a bike in Japan, with the added health and family-fun benefits that potentially come along with riding a bicycle. Bicycles can be rented easily too and aren't very expensive with prepaid terminals being around aplenty.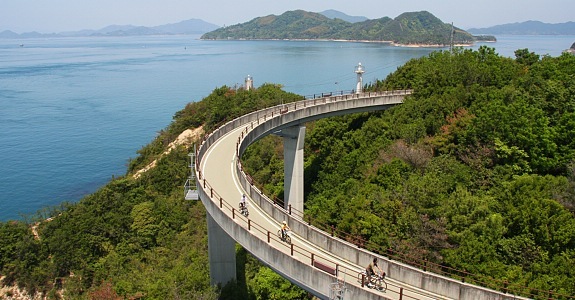 A great destination to ride a bike at is the Shimanami Kaido. The Shimanami Kaido is a road connecting the island known as Shikoku to the country's main and largest island, Honshu. The road isn't all that long with all its 60 kilometers (32 miles), but presents some beautiful scenery in its own right. What makes the road unique from an other ordinary bridge is the fact that it crosses over six smaller islands in connecting the main island with Shikoku. These small islands are located in what is referred to as the Seto Inland Sea, with the road also being referred to as the Nishiseto Expressway in some cases. Another notable part is that while the Shimanami Kaido is only one of three different ways to access Shikoku from Honshu and vice versa, it can only be traversed on foot or bicycle – and given that 60 kilometers is a distance longer than a marathon, mainly bicycles populate the road.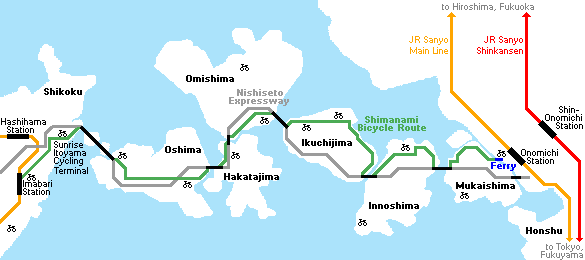 The six islands along the road are Oshima, Hakatajima, Omishima, Ikuchijima, Innoshima and Mukaishima. There are a several small towns on the way between the two islands and allow those travelling along the Shimanami Kaido to view truly unique scenery as well as take some very memorable pictures to show back home.
Another attraction of the expressway is the Hirayama museum, a gallery dedicated to the work of one of Japan's most celebrated and renowned artists named Hirayama Ikuo. He had been born on the island of Ikuchijima where the museum is located and his works can be viewed there, attracting many visitors from all over Japan and overseas.
Images from japan-guide.com