The use of public baths and outdoor hot spring resorts has been an iconic and prolific part of both Japanese history and culture, with many foreigners associating the activities exclusively with the Land of the Rising Sun. The nation's natural geography is almost littered with spots suited for the construction of establishments that take advantage of the country's abundance of naturally hot water being emitted from far below the earth. Many cities and communities have evolved this practise to a point wherein much of the location's attraction is tied to its hot springs – called onsen in Japanese. It is to note that bath houses can be visited on a whim in general, whereas some Ryokan require guests to be an overnight guest in their rooms for them to be allowed access to their hot spring-fuelled baths.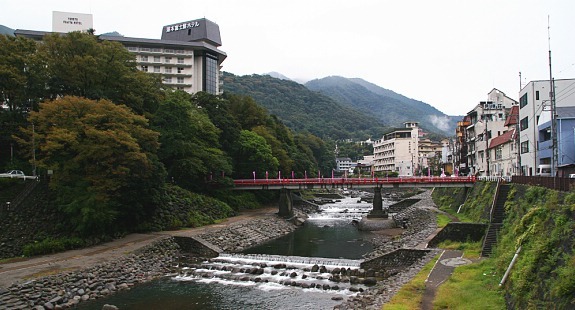 Of course, with the high amount of locations boasting the existence of their hot springs, competition was bound to emerge with some spots being more popular than others. Hakone is one of the most popular spots across the nation when it comes to the practise of relaxing in a hot spring resort. The relaxing waters from the underground hot springs can normally be enjoyed in two forms – either in a Ryokan, a type of Japanese Inn, or a dedicated bath house, The Hakone area has over a dozen highly acclaimed Ryokan and baths, making it a highly favored location for relaxation for centuries now.
One particular hot srping that stands out among all the others is called Yumoto, and is widely considered the most famous hot spring of the Hakone region, and a place that should be considered a must to visit when in the area. The Yumoto hot spring fuels many of the inns in the area located at the entrance to the Hakone region. Yumoto is revered for its high quality and clarity of water it provides to the establishments nearby, having a long history associated with it.
Overall, there are many Ryokan and bath houses to enjoy in the area, and it is highly recommended for visitors to take the time out of their day to simply soak in the atmosphere of serenity while soaking in the refreshingly hot waters of the famous Japanese hot spings in the area. The endeavour is not very expensive either, with day-pass prices starting at 500 Yen, equivalent to around 5 USD.
First image by japan-guide.com
Second image by haikugirl.me