Should you find yourself lucky enough to be traveling in the Land of the Rising Sun, you may want to consider paying a visit to one of its most beautiful cities located in the Hokkaido Prefecture. Sapporo is the fifth largest city in all of Japan and has a name that interestingly translates to "important river flowing through a plain" in Hokkaido's ancient languages. As a major city Sapporo is also the youngest one – 150 years ago, its population was a scarce seven inhabitants.
However, as a city Sapporo is not exactly a hotspot of outdoor activity and compared to its sister cities there's a lack of ancient historical sites and such to explore. One of the nice parts of the city to relax in though, is the Odori Park. Odori Park has fondly been described as a tiny version of New York's iconic Central Park. The park runs through the middle of the city, separating south and north Sapporo.
The park stretches over 12 city blocks, which roughly translates into one kilometer of length and has a pleasant atmosphere to it as it provides a discernible contrast to the busy city life surrounding it.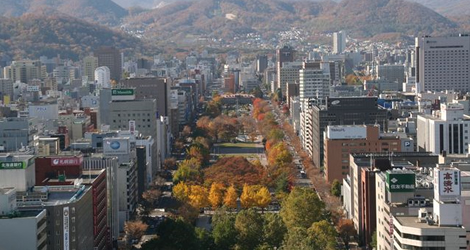 At the most eastern end of the Odori Park, one can find the Sapporo TV Tower. Similar to the famous Tokyo TV Tower, the Sapporo one also has a nice observation deck to admire the skyline from.The tower is just under 150 meters in terms of height and provides a very nice view of the greenery of the Odori Park cutting through the more muted colors of its surrounding corporate buildings.
One of the best outdoor activities to experience in Odori Park is the Sapporo Snow Festival, held in the early weeks of every February. Talented artists from all over Japan, and even from other parts of the world, come together to create some of the most impressive sculptures and structures made from ice. Odori Park is the main venue with the entire park covered in snowy sights to see. Combined with a trip up to the TV Tower in the time of dusk when the park buildings are alit by lights and you have yourself a safe and beautiful outdoor activity that can't really go wrong.
Image by happyjappy.com