When you go out of your home country to do some traveling, you'll get the most cultural experiences by staying outdoors – and Japan is the perfect place for doing just that. Rich with cultural events and places, there are many things one can see when exploring the outdoors.
One of the most rewarding experiences in Japan's outdoors to have normally comes from being creative – hiking mountains and riding bikes can only be entertaining for so long – and is not always convenient when one has to travel within the country all the time to get to places worthwhile seeing.
One somewhat unorthodox outdoor activity would be to visit the Tsukiji Fish Market. And while that sounds royally boring I assure you it is most certainly far from that, especially if you hail from a country that isn't all that big on delicacy from the sea or you haven't had the opportunity to see what it is like to go see a proper fish market. One of the nearby areas is also well known historically for its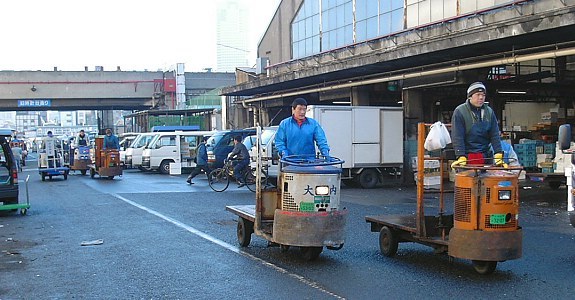 The Tsukiji Fish Market, or the Tokyo Metropolitan Central Wholesale Market for those not blessed with understanding of the Japanese language, is the single largest seafood market in the world and definitely one of the less common things you can experience when going to the Land of the Rising Sun.
Located in Central Tokyo along the Sumida River, the Tsukiji Fish Market is kind of hard to miss. The place is split into two parts, the inner and the outer market. The inner part is where most of the fish processing takes place and is likely not the right one for the ones who hate the smell of fresh fish, nor is it a place for the faint of heart as you're more than likely to see a fish or two lose its head here or there.
The outer market might be more friendly for the average tourist looking for an outdoor experience. Many different stalls are set up here selling food (you'd be hard pressed to find one that isn't selling some variation of sea food) and a lot of shops here sell kitchenware. An unorthodox outdoor experience for sure, but definitely filled with sights you'd never thought you'd see.
Image by japan-guide.com